COOKIEs & CANVAS
Paint Night
The BC/PR PTO invites students and their families to join our very own Mrs. Kyro for a painting tutorial of a whimsical gnome, for a Virtual Paint Night! Pricing starts at $5 for an individual with discounted family packs available. Registration includes the supplies needed to paint and a snack.
Mrs. Kyro's demo – watch at your own pace on your own time
Google Meet – Friday, Feb. 19 @ 6:00 – 7:00 PM. Ask questions, show your work, or say "hi". 
The link on the hard copy flyer inside your kit will not be used.
Mrs. Kyro's Cookies & Canvas Google Classroom (gatt7ok) – join with student's @bcreek.org account to share your work 
Information / Helpful Tips
The guided tutorial is pre-recorded; you can use the link at ANY time or day that suits your family
Mrs. Kyro will be available via Google Meet from 6:00 – 7:00 PM Friday, Feb. 19th for any tips, pointers, questions; to hang out while you paint or share your work; or just to say "hi".
In addition to the supplies in your kit, you will also need:  1) a pencil, 2) some paper, 3) a plastic grocery bag, and 4) a piece of cardboard (like an old cracker box, unfolded and flat OR use the bag your supply kit came in)
Cover your work surface (old newspapers, plastic trash bags, cardboard all work just fine)
Wear a "paint" shirt or other protective top/apron – acrylic paint WILL NOT wash off clothing
For any order issues or other questions, please reach out to the PTO at bcprpto@gmail.com or @Bullock Creek/Pine River PTO on Facebook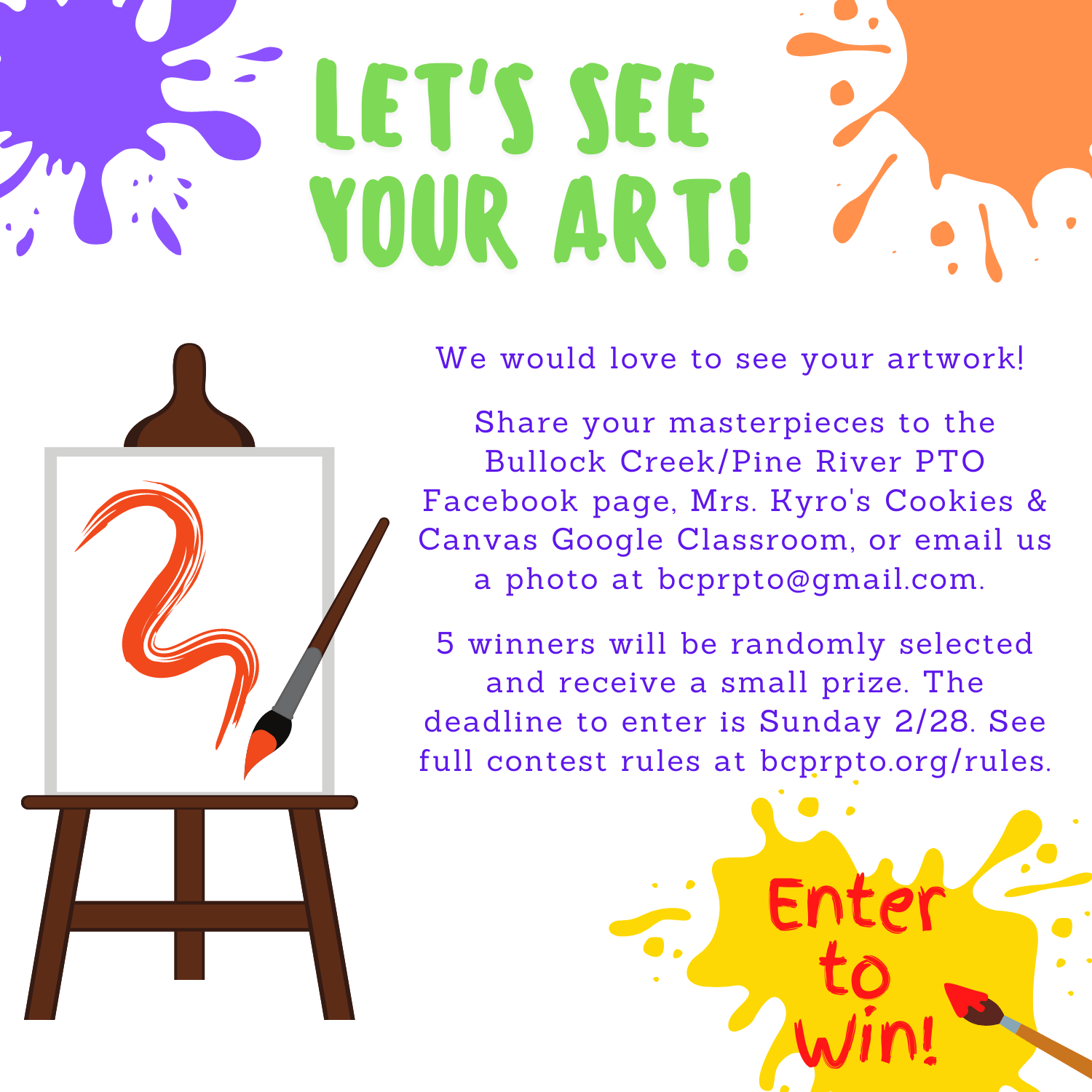 Enter the contest via Facebook, Mrs. Kyro's Cookies & Canvas Google Classroom, or email from February 17 – 28. Entry in contest represents your agreement to the official contest rules, which can be found at bcprpto.org/rules. Purchase of Cookies & Canvas registration not required to enter; you may use your own supplies at home and still participate.