Stay in Your Sleigh,
Holiday Creek car Parade


*DUE TO THE RECENT SCHOOL CLOSURE THIS EVENT HAS BEEN POSTPONED*​
The BC/PR PTO invites you to attend our first ever Stay in Your Sleigh "reverse" holiday car parade. Parade viewers will drive through the standard BCEL drop off/pick up route (see map below) and view the holiday displays. Parade viewers will not leave their vehicles. For more information, email us at bcprpto@gmail.com.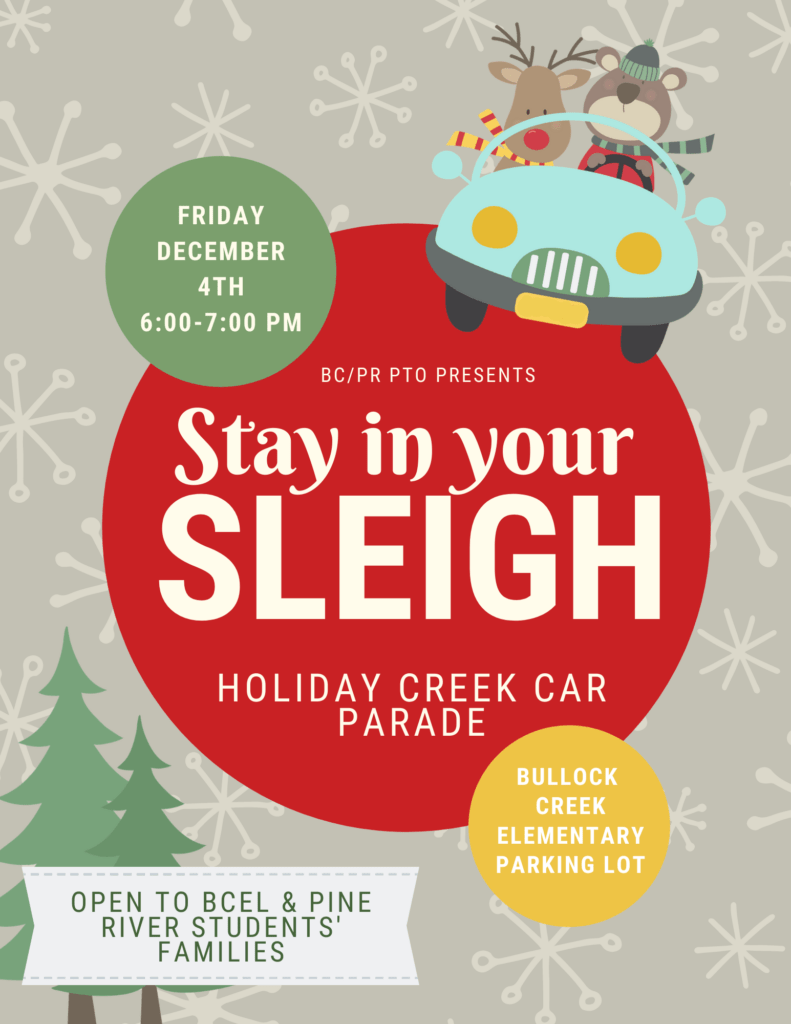 The PTO is searching for volunteers to deck out their cars/trunks or tables for our "reverse" holiday car parade! If you are interested in decorating your vehicle or a table for this event, please fill out the below form. For more information, email us at 
bcprpto@gmail.com
.
Requirements/Info:

The parade will be OUTSIDE, please be prepared and dress accordingly. We will not have access to the building.

All registrants and volunteers MUST wear a mask during the event.

You are responsible for your own set-up (beginning at 5:00 PM).
You MUST provide your own: car/table/tent, decorations, lights, power source (for anything electrical you may have).
The PTO will provide some items to be passed out to parade participants. Please note that you CANNOT hand anything out (candy, treats, etc.) unless it is provided to you by the PTO.
Limited spaces are available, we will take registrations until all spots are filled.
This event may be canceled at any time due to severe inclement weather conditions or for health and safety reasons.